An expanding portfolio of premium real estate, featuring many of the world's premier addresses, all developed and designed by the Eav's Group.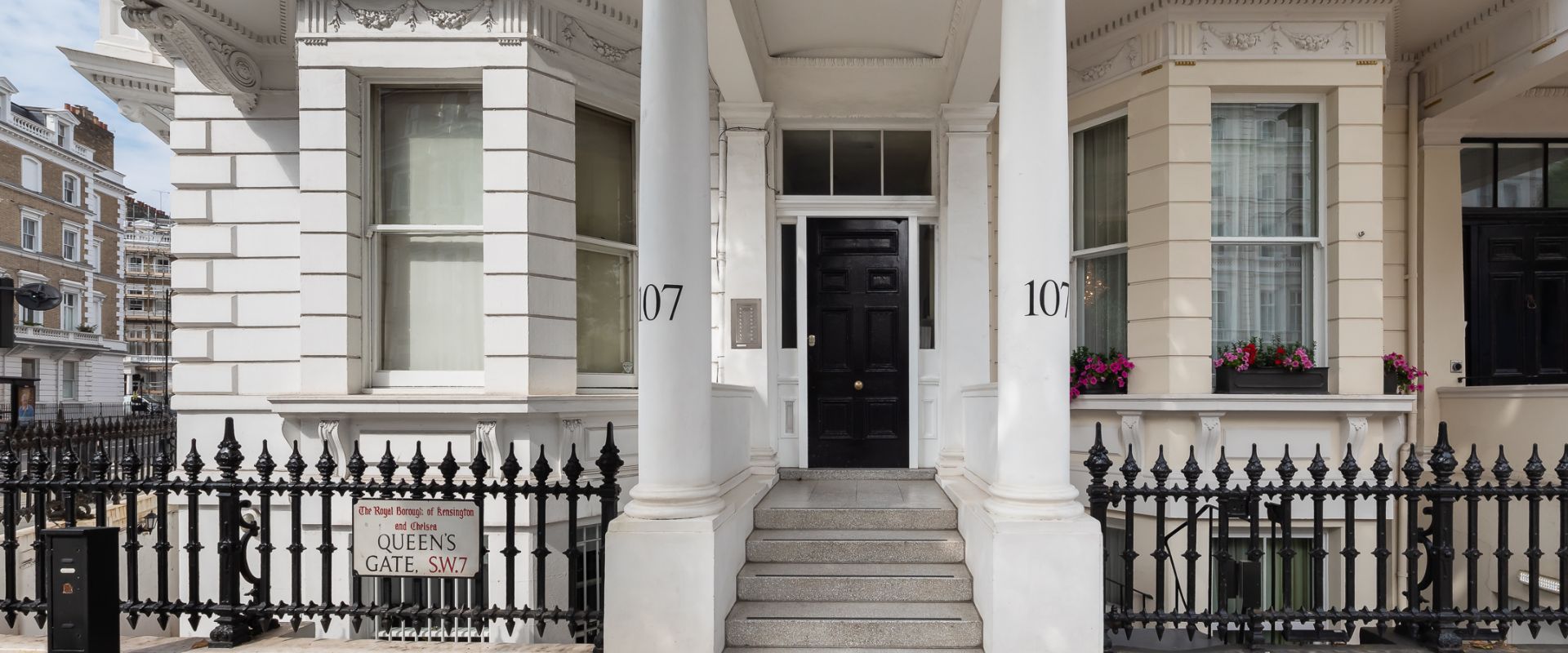 CRAFTED IN FINE DETAIL.

REBORN IN LUXURY.
107 Queen's Gate sets the bar high, as a fully renovated modern luxury apartment in London's prestigious South Kensington district. It is a triumph of innovation, dedicated craftsmanship, and artistry, and is the winner of the category of Best Luxury Apartment Interior Design for the Luxury Lifestyle Awards 2022.
Bright and spacious, this two-bedroom, two-bathroom first-floor corner apartment boasts distinguishing features that are rare even among London's most exclusive residences.
The property's corniced ceilings, nearing 4 metres in height, foster a sense of grandeur and openness. French doors open on to four separate balustraded balconies, which look out over the private Onslow Gardens. State-of-the-art innovations, commissioned artworks, a gym membership, concierge service, and luxury amenities uphold the highest standards of modern health and wellbeing.
Due to its exclusivity, limited availability, and increased profile from the Luxury Lifestyle Awards, 107 Queen's Gate is destined to be one of the most sought-after addresses in London.

The attention to detail throughout 107 Queen's Gate is exemplified in the apartment's spectacular open living area. The carefully curated furniture includes custom-made brass bookcases, a marble working desk, and plunging automatic curtains that frame the floor-to-ceiling windows. The fireplace promises warmth and comfort and the modern smart TV is mirror-concealed.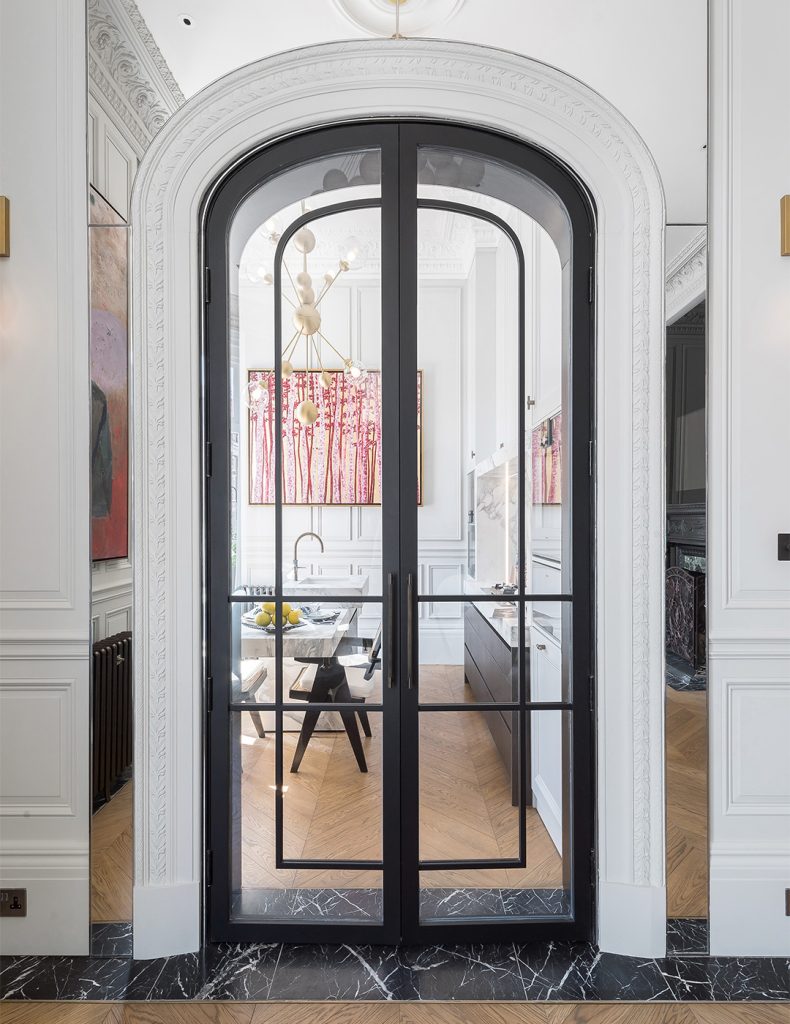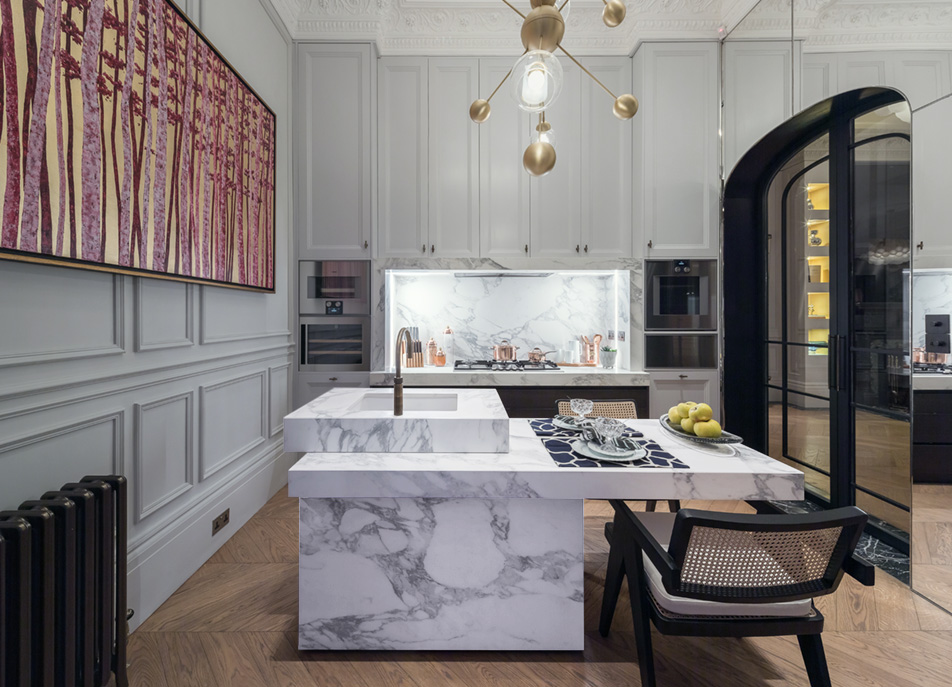 Culinary excellence beckons in the south-facing kitchen, where the large windows and French doors open up to a balcony with an expansive 270-degree view. Gaggenau appliances and an engineered island worktop of Calacatta Magnifico by Infinity Surfaces complete this chef's dream space.
The commissioned artwork by British artist Jo Charlton created a stylized depiction of trees in rustic reds and her signature gold leaf – which gives warmth and luminosity.
The dining room is a place to savour good food and great company, whether sharing an intimate breakfast or hosting a banquet. The double terrace, mosaic marble flooring, and mini wine bar come together to create a space of classic beauty.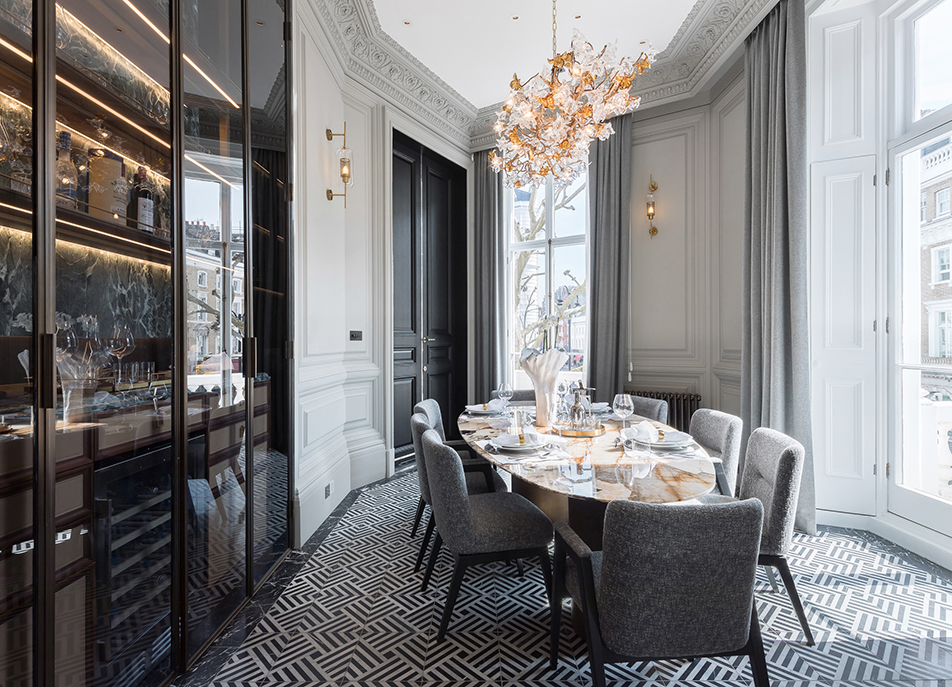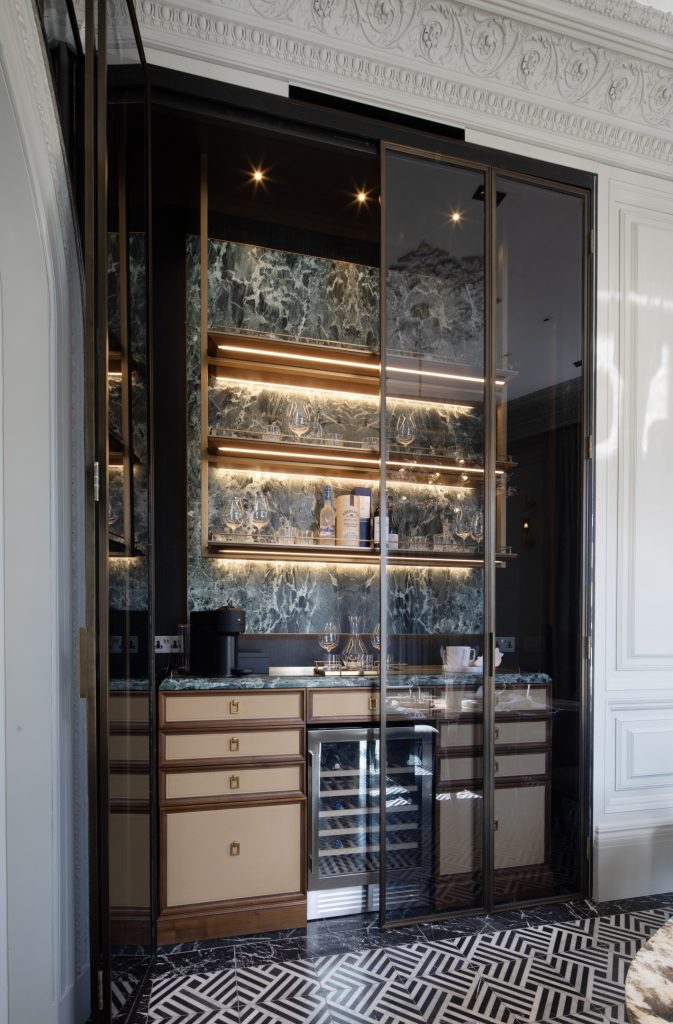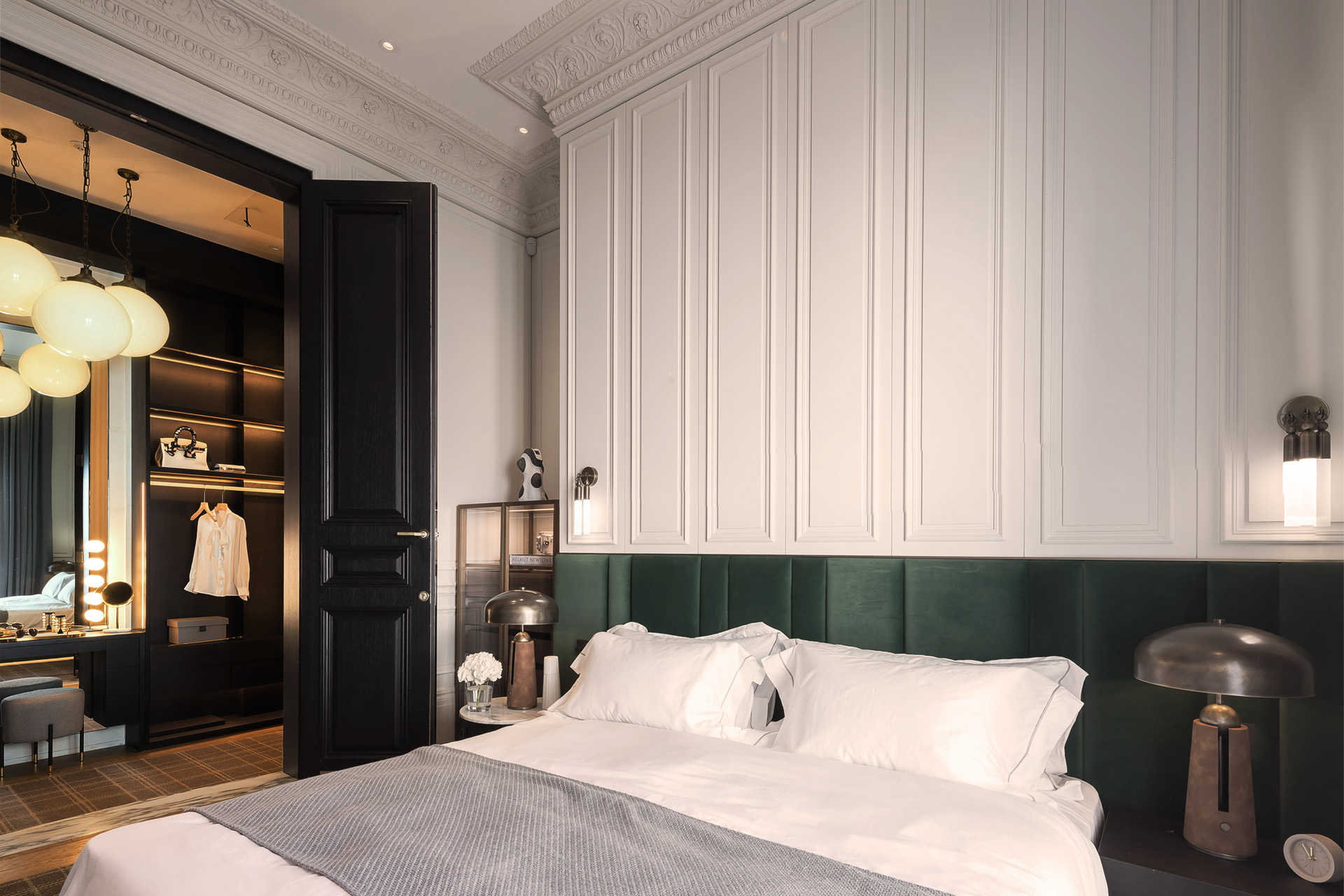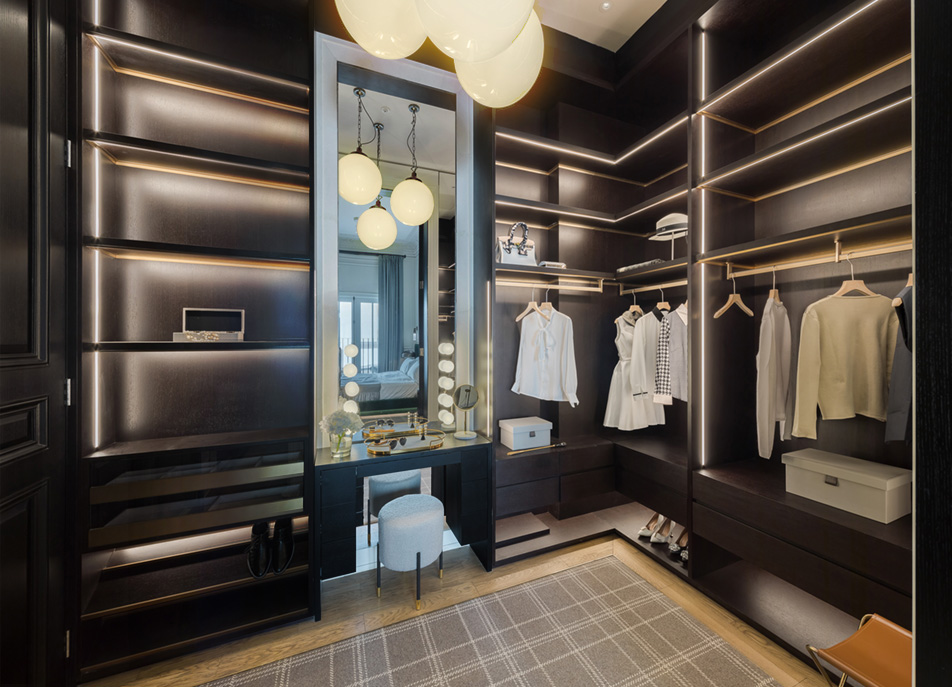 Step through a spacious, restful, and private dressing room to enter the master bedroom: an inviting space with palatial double-height ceilings that are a rarity in London's luxury property market. Modern and bright, the space is crafted in calm textures and colours with high-end flooring and bespoke joinery work that makes for a lofty, sunlit haven, with a truly serene ambience.
A haven of rejuvenation, the master bathroom features novel sanitary ware, a bespoke vanity unit, a spacious shower with floor-to-ceiling glass, and a decadent bathtub complemented by distinctive feature walls.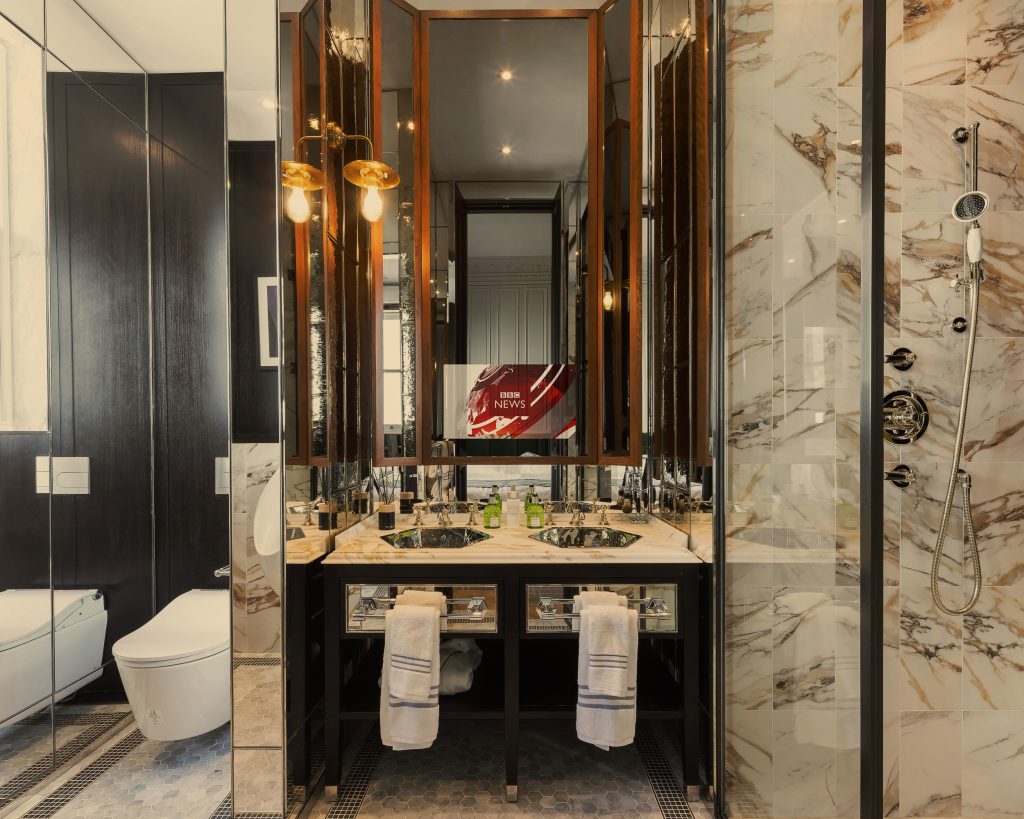 A home isn't just a place to sleep; it's a
way of life. The artworks adorning the
walls of the property are by emerging
British artist, Jo Charlton, whose selected
works resonate well with this vibrant
home.
Our detail–oriented approach to
furnishings extends to the dining ware,
with a special collaboration with the
world–renowned British designer
Sebastian Conran.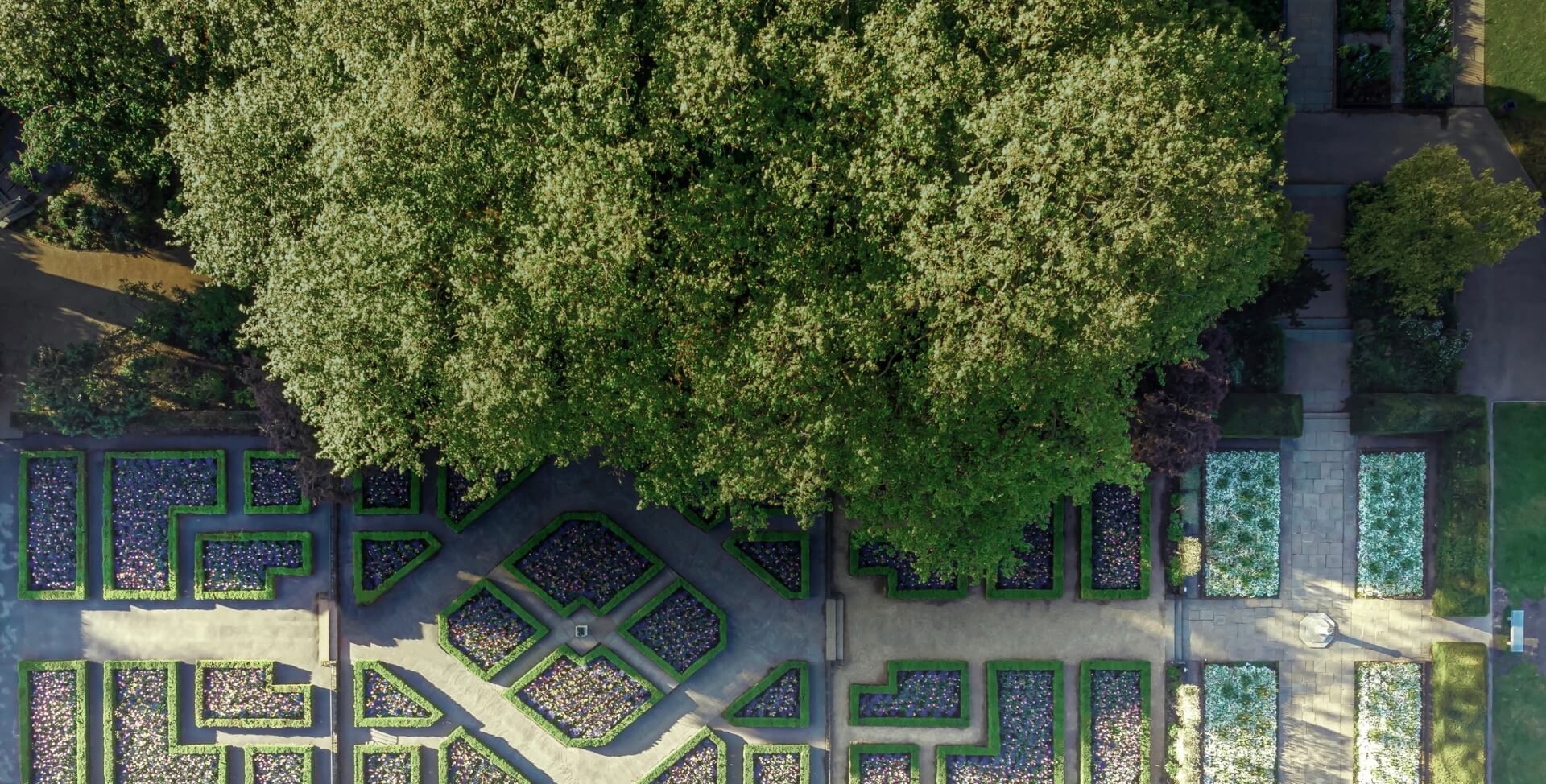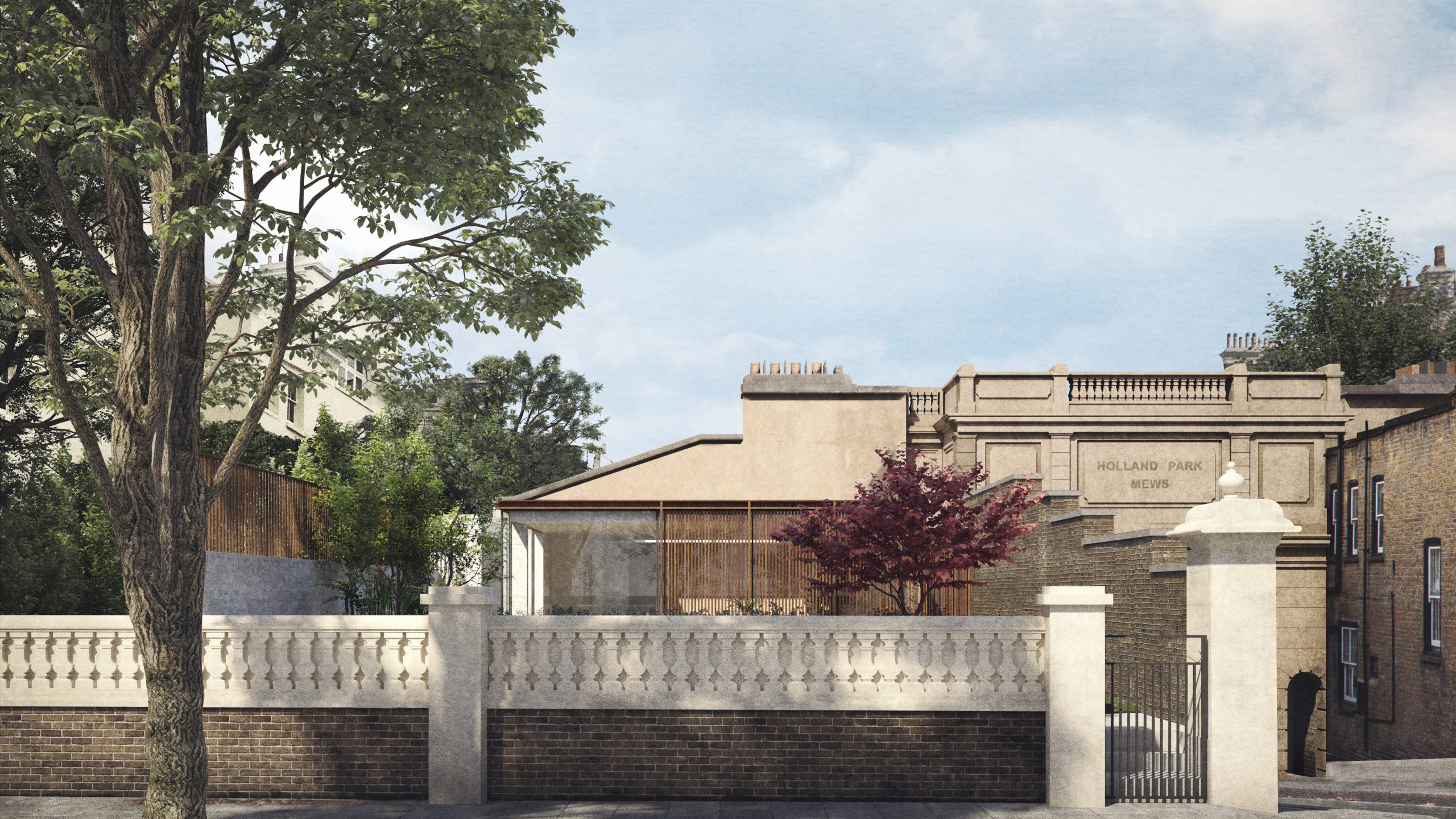 UNVEILING A SEAMLESS LIFESTYLE
An area with a distinguished history, even for London, Holland Park has been home to noble, renowned and celebrated people, for generations. No. 91 Holland Park is inspired by the creativity, vision, and reverence of its prestigious neighbourhood, and offers a truly seamless lifestyle. This three-level gem may be one of the area's best-kept secrets, boasting classic architecture, hardwood floors, and modern design elements and comforts throughout.
Over 3,200 square feet, this luxury three-bedroom home is appointed with unique design and artwork, and entry through a generous private garden. Ingeniously designed lightwells fill the entire home with natural sunlight. Making this property even more remarkable is its games room, cinema room, and exquisite indoor swimming pool.
A sophisticated open-plan living and dining area serves as a point of welcome. This leads through to a stunning mirrored gas fireplace and on to a generous kitchen and lavish dining area where full-height glass windows offer a seamless connection to the 980 square foot private garden, creating a sense of gentle enclosure.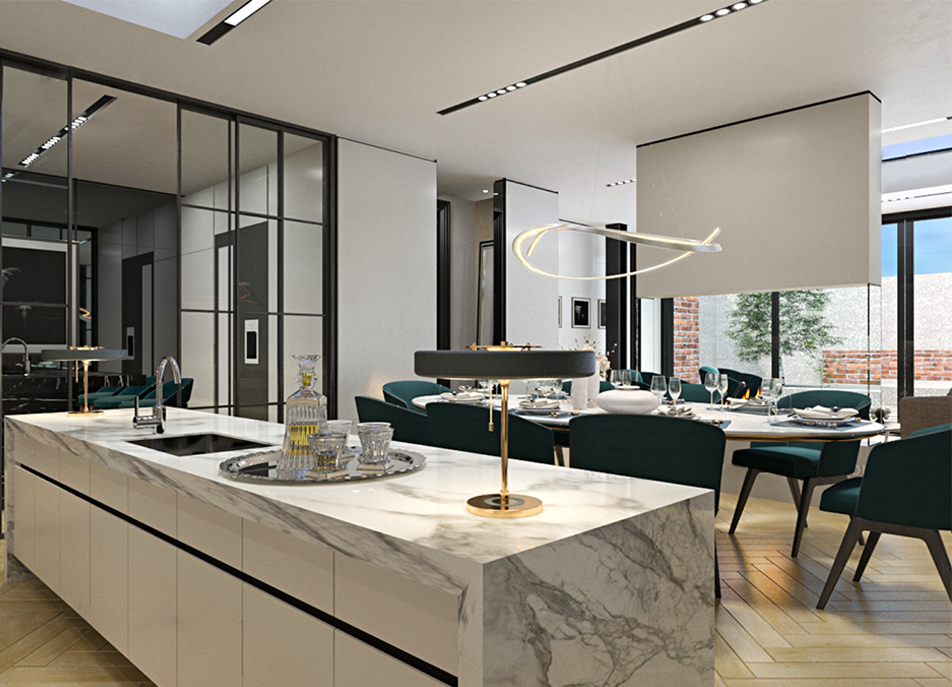 Featuring a long bar with a modern stone counter and dining table, this chef-inspired kitchen is perfect for gathering. A sliding glass door between the kitchen and dining area provides flexibility, allowing you to move seamlessly from an intimate setting to a vibrant entertainment space.
The lower ground floor opens into a fanciful and resplendent games room, complete with a billiards table. In keeping with the home's styling, interesting art and nature-inspired wall textures give it a unique ambience. Sliding pocket door systems allow you to cordon off rooms to create calm and intimate environments.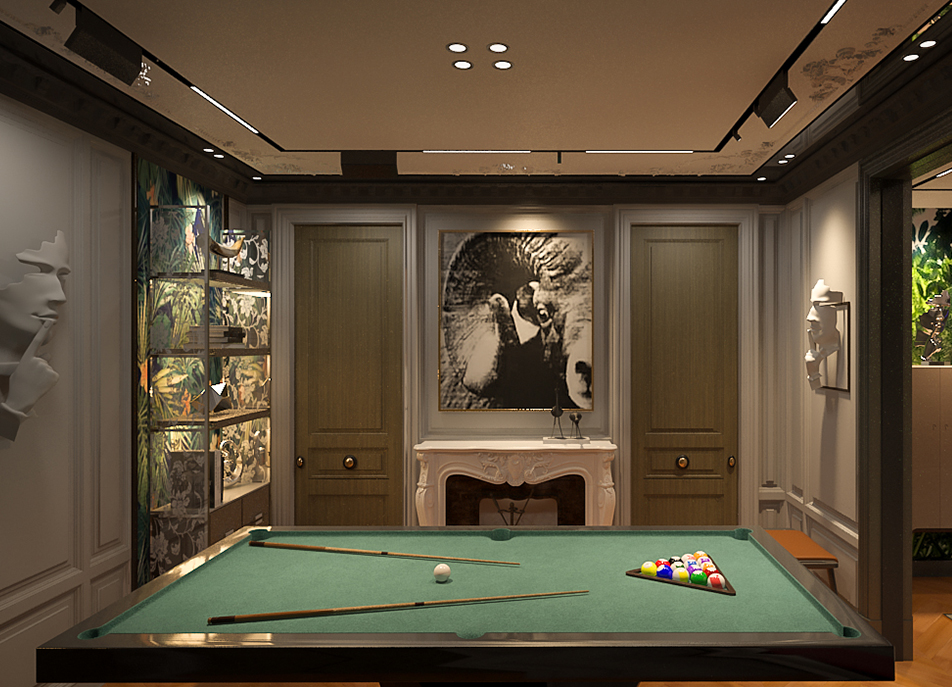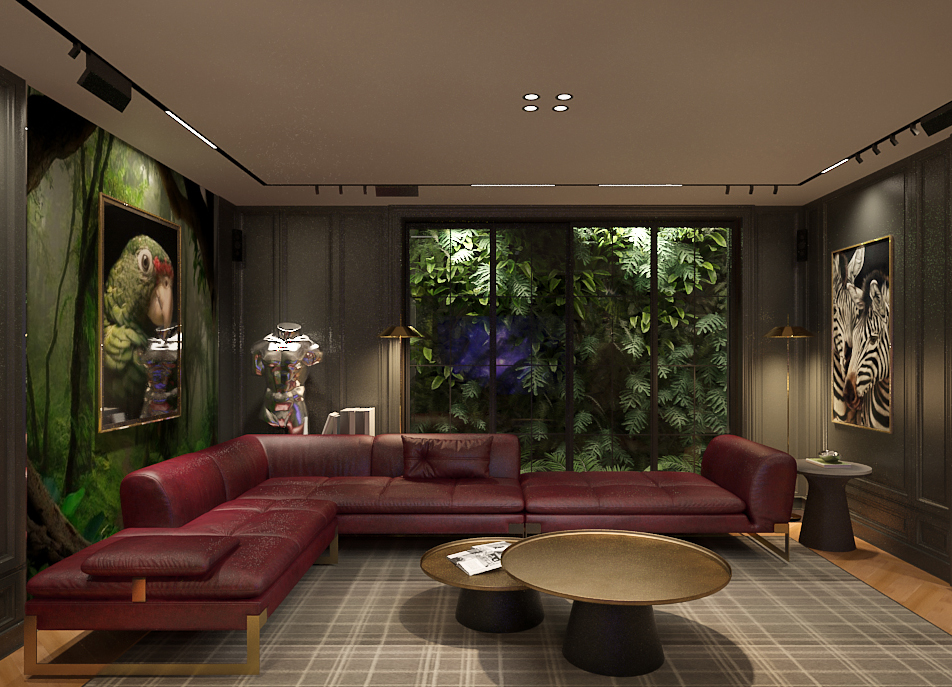 This relaxed multifunctional space with its comfortable plush furniture serves as a family room or second living space and creates a perfect home theatre experience. Offering a balance between cosy evenings and lazy days, lightwells can be opened to transition the space into a bright and airy reading lounge.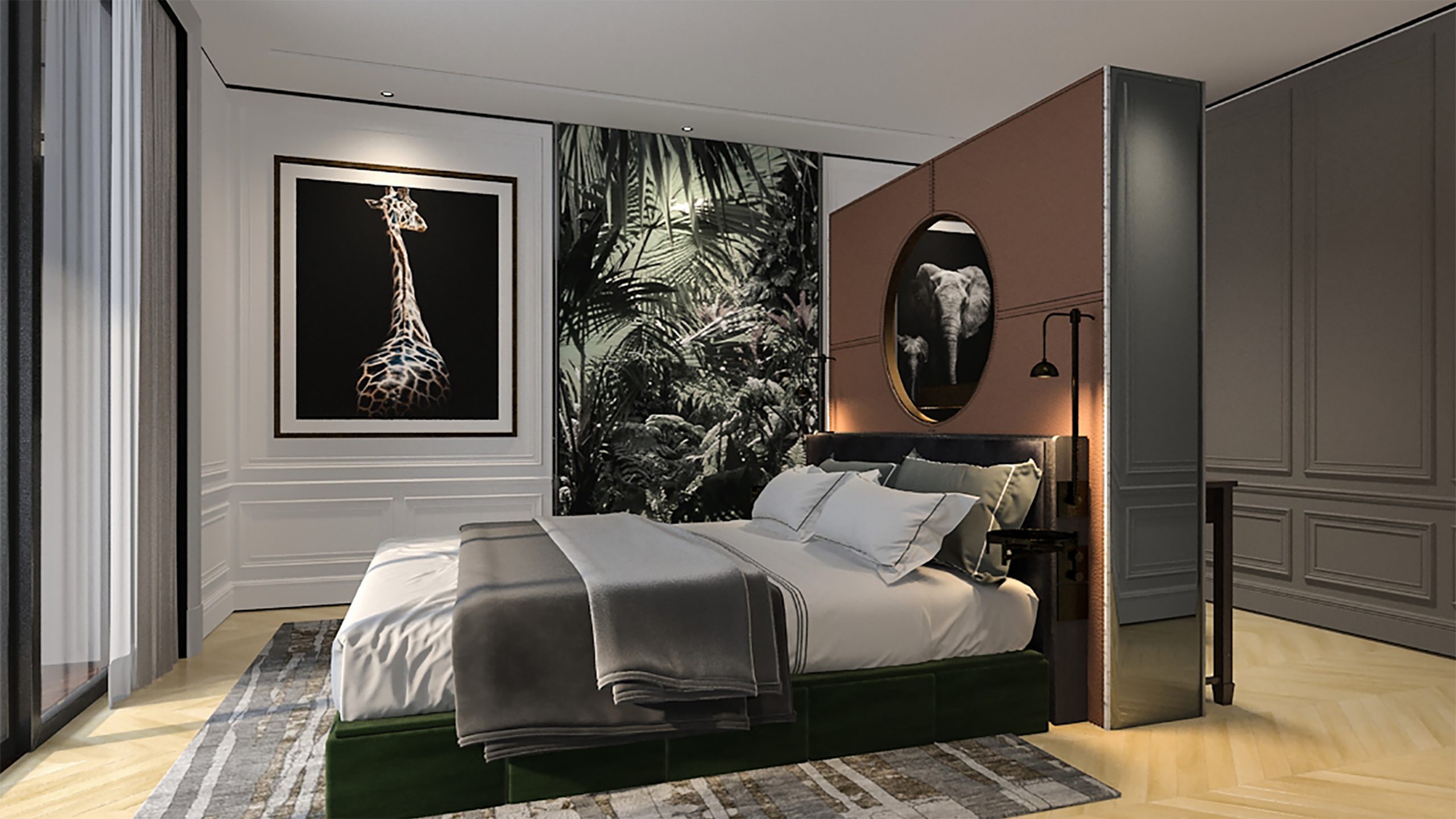 Separated by a luxurious hallway dressing room for additional privacy, the master bedroom is a sophisticated space bathed in natural light from innovatively designed lightwells. With thoughtfully planned details, including linear downlight lighting for the wardrobe, and a leather-adorned partition with wall-mounted mirrors between the bed and dressing table,
it is a remarkably refined and restful room.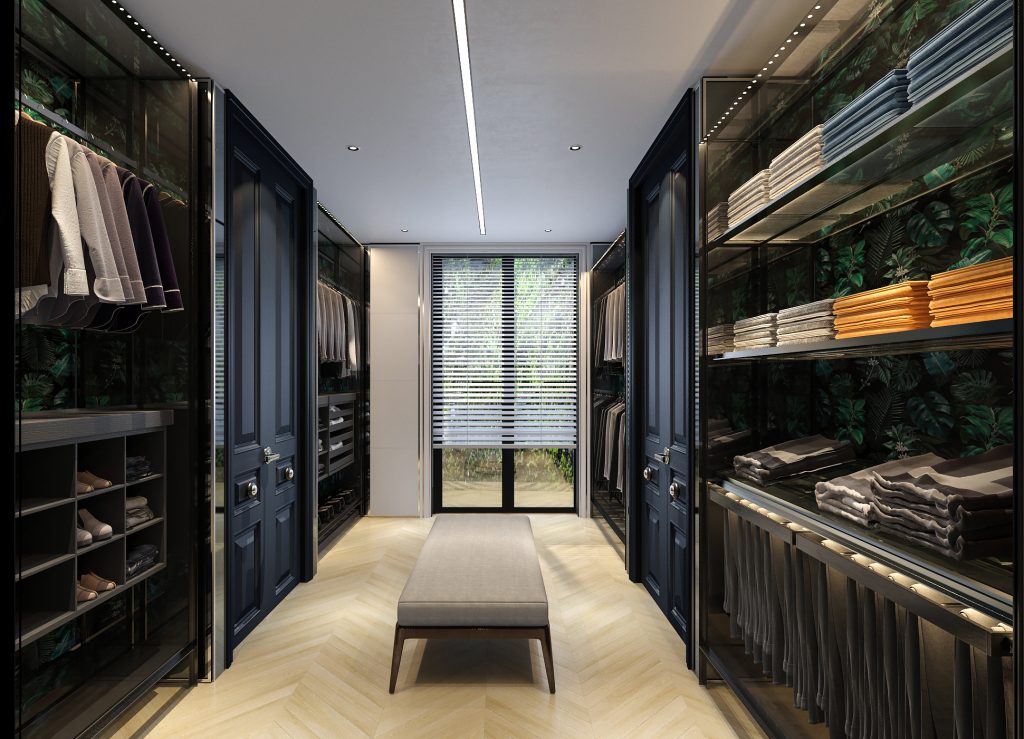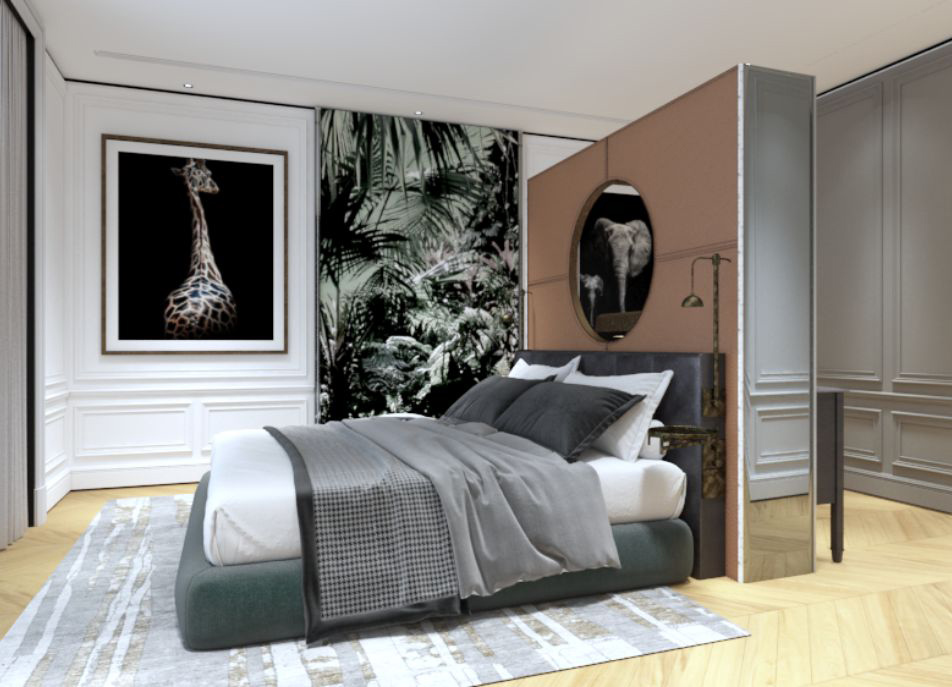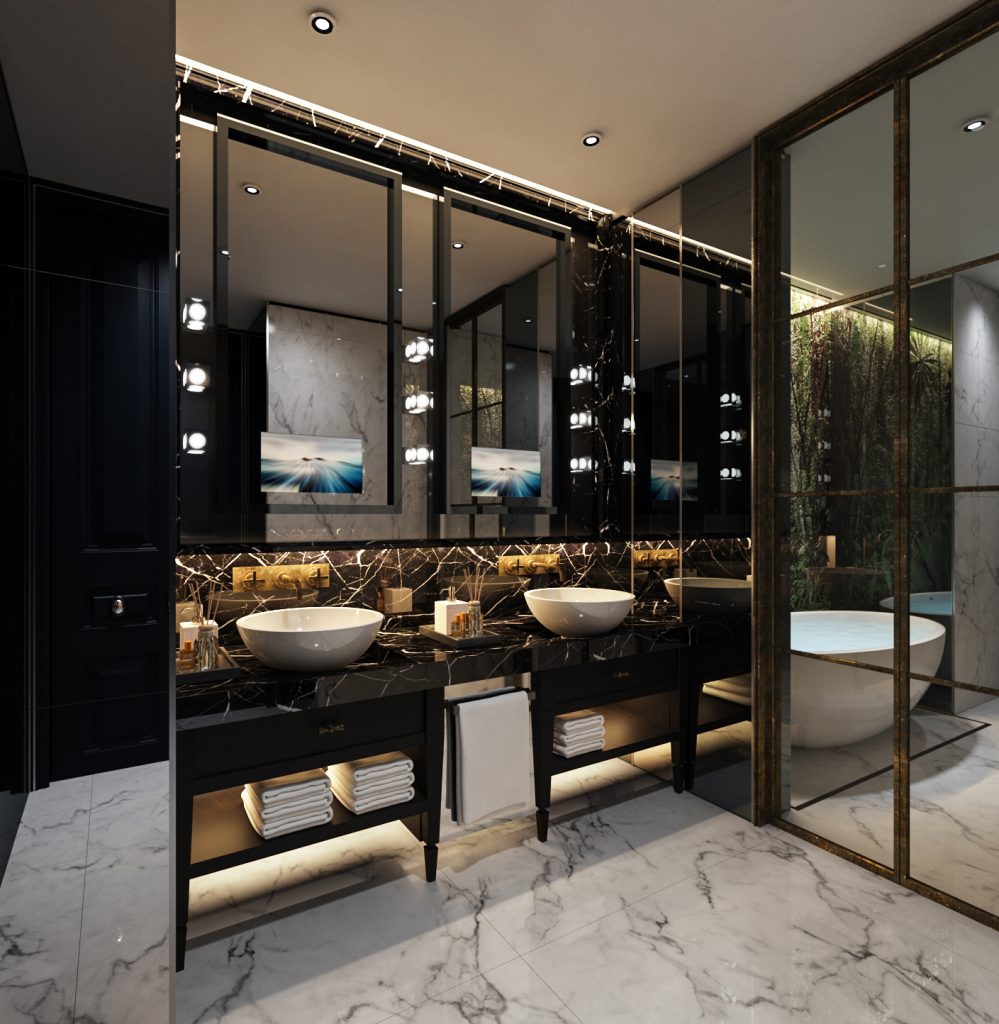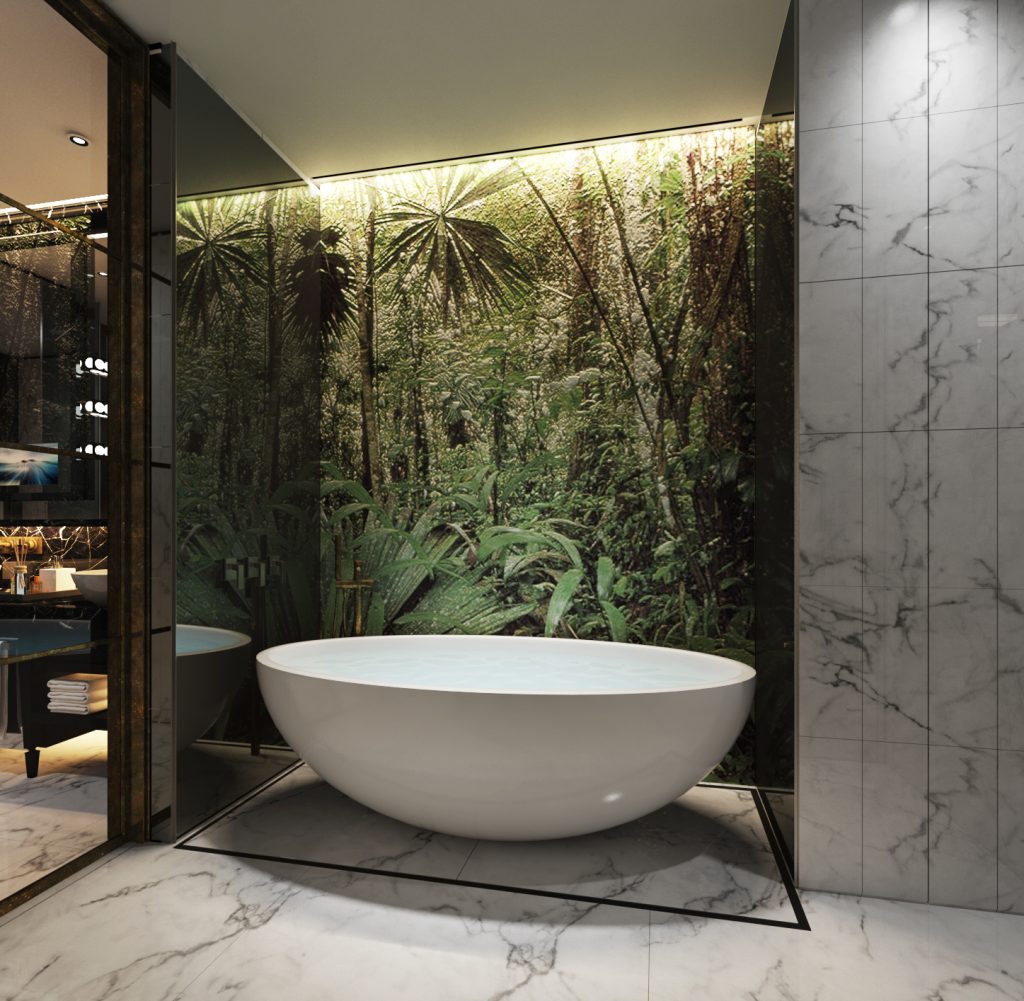 Featuring double sinks and a spacious bathtub, the master bathroom is ideal for busy couples with parallel schedules. The design has prioritised comfort, privacy, and a feeling of being pampered, with exquisite marble tiles and tasteful tropical touches, making for a welcoming, serene, and spa-inspired space.
Guests will feel right at home with the two guest bedroom suites. Each is equipped with a separate modern bathroom with stylish amenities, ensuring comfort, privacy, a touch of decadence, and a sense of occasion.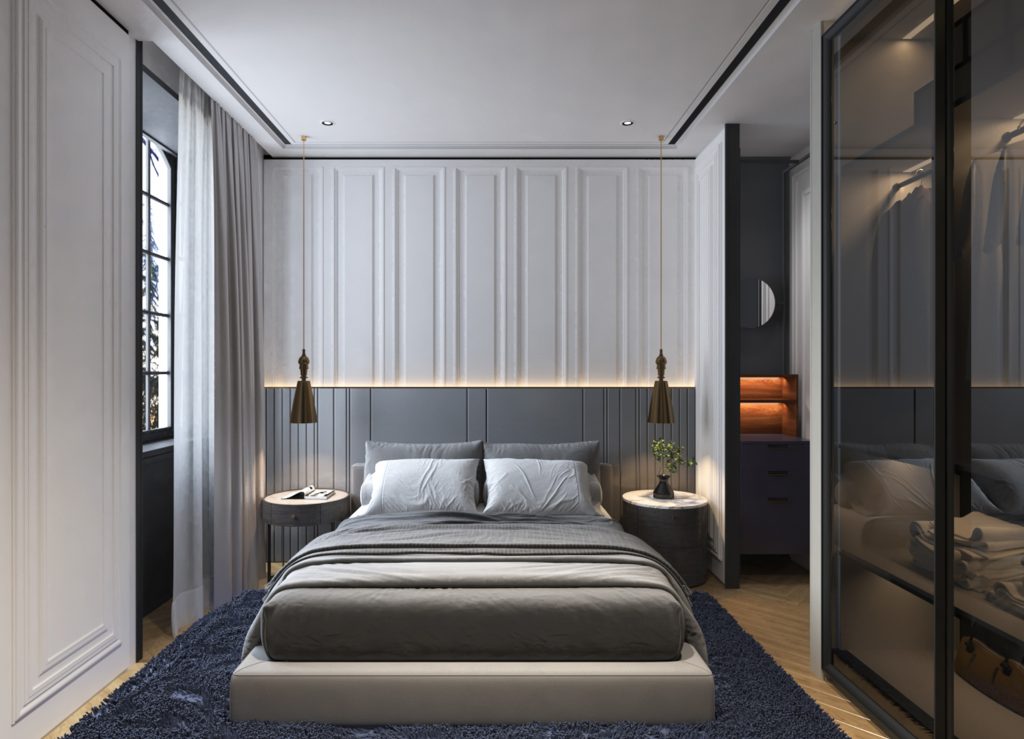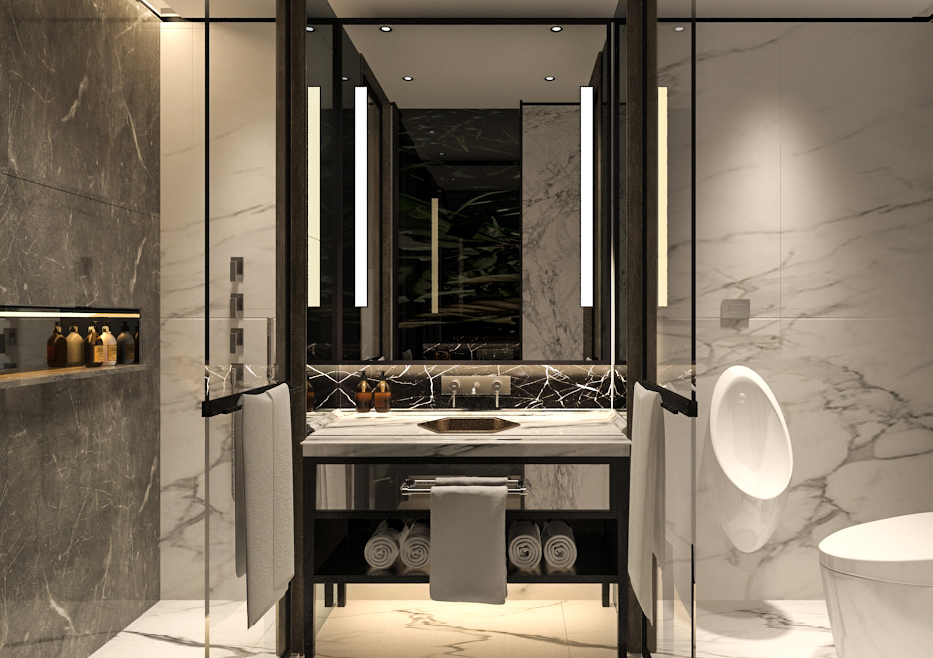 Step into the basement to experience what is easily one of the most unique and spectacular features among all the district's homes: the 10m-long private indoor pool. This year-round, climate-controlled retreat features high ceilings, a grand skylight, specially designed decking, and customised masonry work around the pool and surrounding walls.